Corkcicle Tumbler 16 Oz.
Corkcicle Tumbler 16 Oz.
Make every day refreshing with our Classic Tumbler, aka the coolest cup ever. Crafted from stainless steel with proprietary triple insulation, it keeps contents cold and refreshing for 9+ hours and hot for 3.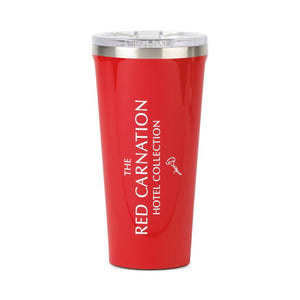 Why settle for giving an ordinary coffee mug to your loyal customers, when you can make a lasting impression by giving the Corkcicle Brushed Steel Tumbler - 16 Oz. The innovatively designed tumbler contains impervious stainless steel that protects the proprietary triple layer insulation from impact and moisture damage. Enjoy hot beverages for up to three hours and hot beverages for up to nine hours. Easy to grip sides allows you to move quickly through crowded airport terminals, without spilling a beverage on your business attire. Add your corporate logo to attract customer prospects to your business.
Cool for 9+ hours, hot for 3. Stay-put silicone bottom. Triple insulated. Easy-grip, flat sides. Sliding, shatter-proof crystal clear lid. Stainless steel
Width: 3.63in, Length: 3.5in, Weight: 0.78lbs, Height: 6.89in
Any file format is acceptable. Vector is preferred if available.
Production time: 2-3 weeks
Upload your artwork
and leave the rest to us.
Submit an order
Great! You have chosen a custom product, uploaded your design and submitted online.
Approve the proof
After we receive your order, we'll send you unlimited proofs via email and wait for your approval.
Receive your product
Once you have approved your proof 
your part is done! We'll ship it quickly 
to your door.
You may also like these custom coffee mugs