Custom Die Struck Pins
Choose from our selection of custom die struck pins. Die struck pins have a shiny or vintage feel for them and can be used for a variety of occasions. 
Antique Die Struck
A timeless look with contrasting metal tones
Vintage appearance
Antique Look
No Colors
Intricate Detail
Textured Feel

Antique Die Struck
Process
Die struck antique pins are one of the most popular styles due to the consistent quality of the finish. The pins will age extremely and look vintage from day one. 
Our team can help recommend how to set up your art file, but in short, the raised areas will be lighter relative to the darker areas will which have the darker antique build up. This process creates a really nice contrast which will make text easier to read + highlight some of the smaller details in a design.
Works well with popular plating options like antique gold/silver, but can can also be used for rose gold, copper, black nickel etc. 
Benefits over Sand Blast Polish
Works better for legibility of small text
Less prone to fingerprints long term given it's distressed look from the start
Sand Blast Polish
Shiny plating on diecut designs
Polished highlights
Shiny Appearance
No Color
Less Detail
Textured Feel
Sand Blast Polish
Process
Finishing pins with a sandblast + polish look is an excellent way to give your design a premium fill. With the help of our team, we can make sure you design is set up for success so the right parts are being polished and the right parts are being sandblasted.
The process creates contrast in a design where the raised parts of the pin are shiny and polished whereas the recessed parts of the pin are textured and sandblasted. This is a popular style for:
Award pins
Employee recognition pins
Years of service pins
Pros and cons versus antique 
More premium look
Some of the details can get washed out 
Small text is tough to read
Fingerprints show up on the pins 
Premium Die Struck 🇺🇸
Made in USA pressed metal pins
USA made quality
Textured Look
More Expensive
No Color
Higher Quality
Premium Die Struck 🇺🇸
Process
Our USA made die struck pins can be done in a shiny (sand blast polish) or vintage (antique) look. The biggest challenge with this style is that any custom shape (aka not a circle, square or rectangle) will carry a set up fee of +$500. This can make production at lower qtys cost-prohibitive because the set up charge brings the overall per price up. Additionally, any custom shape requires a longer lead time to create the mold.
When the design is right (stock shape) + the timing of the project isn't a rush, this is definitely a step up from the imported options we offer. The finishes have a much more premium feel and our skilled US craftsmen can really elevate a logo or design with higher end base metals. The polished edges can create a much more elevated look.
Benefits over Made in China
Supports American manufacturing
Higher end finishes available
Longer lasting final product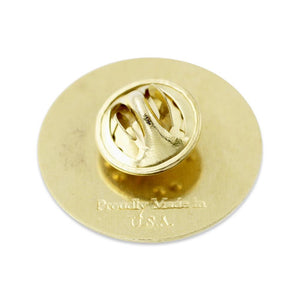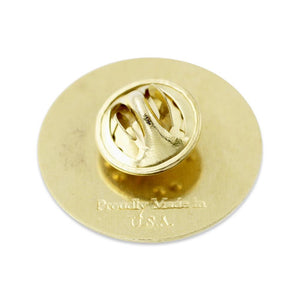 Sterling Silver 🇺🇸
Custom pins made with .925 precious metal
Precious metal pins
Genuine 925 Sterling
USA Made
Slow Production
Highest Jewelry Quality
Sterling Silver 🇺🇸
Process
Sterling silver pins combine all the best qualities of our USA die struck pins but also include a more premium base metal. Using genuine 925 certified sterling silver, these pins are best suited for high-end programs, employee rewards or special occasions.
The classic look for a sterling silver pin is to do sandblast + polishing with no color, however, we can do antique or add enamel (requires extra quote) if you prefer a different look. Typically our customers will package their sterling silver pins in a velvet gift box to enhance the presentation. 
Use Cases
Employee recognition
Years of service
Donor pins
You might also like these pins