Die Struck Coins
Antique Die Struck
All antique metal custom coins with no enamel color
Antique Look
No Colors
Intricate Detail
Multiple Plating Options

Antique Die Struck
Create a timeless looking custom coin with incredible detail. The all metal coin is a versatile option for that works well with any design. Antique coins are a classic way to translate any logo or design into a keepsake that will leave a lasting impression of your organization. Custom coins can have a design on both sides. They almost always are made in a circular shape but can be made in any shape for no extra charge. Custom silver coins and custom gold coins are the most popular plating styles.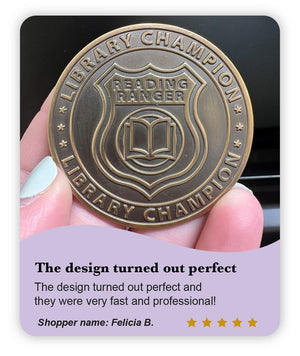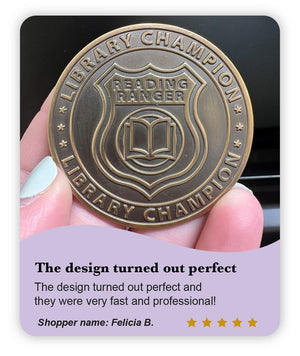 Sand Blast Polish
Shiny + polished all metal coin without colors
Shiny Textured Feel
Raised And Recessed Metal
Multiple Plating Options
High Perceived Value
Sand Blast Polish
Our die struck sand blast polish coins are great for commemorative events as they have a high perceived value. The raised areas are polished and the recessed areas are textured and sandblasted. This creates a nice contrast so that elements of the coin can be seen more prominently against a background. Our expert team will suggest the best way to set up your design. 
USA Die Struck
American-made diestruck metal coins
Premium Option
Slow Production
Mold Fees
Antique or Shiny
USA Die Struck
Produce your custom challenge coins with the highest quality USA made materials. Let our skilled craftsmen and women create a collector's grade coin.